Friday | 8:00 PM - 10:00 PM
The Musical Adventures Of...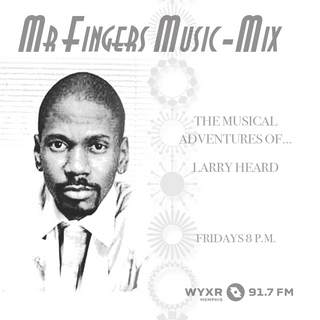 Larry Heard
Renowned globally as "The Father of Deep House Music," producer Larry Heard is a veteran of the studio and stage and a luminary figure in the realm of electronic dance music. Though closely associated with the underground club scene of Chicago, his love for Memphis and roots in the region run deep, as a descendant of the Mississippi Delta and a longtime Memphian. He offers weekly explorations of various genres, from soul, neo-soul, world music, and more.
Strawberry Letter 23

by

The Brothers Johnson

•

Strawberry Letter 23/The Very Best Of The Brothers Johnson

Fuck Everything

by

FKL13

•

Fuck Everything

Gunsling

by

Unreleased Songss

•

Gunsling

Hottest In The City

by

Ty Dolla $ign

•

Hottest In The City

Smoke (with EST Gee)

by

BlocBoy JB

•

Bacc 2 Da Bloc

Blockboy Freestyle

by

Genie

•

Blockboy Freestyle

Twrk Bit

by

Juicy J

•

36 Mafia

Wait - Bonus Track

by

Philthy Phil

•

Blame It on the Drako

Rumble - 1958 #16 Billboard chart hit.

by

Link Wray & The Wraymen

•

Rock-A-Hits

Switches & Dracs (with Lil Durk feat. EST Gee)

by

Moneybagg Yo

•

A Gangsta's Pain: Reloaded

Shake It Fast

by

Rae Sremmurd

•

SremmLife 2 (Deluxe)

Dats It Fa Ya (feat. Juicy J)

by

DJ Paul

•

Master of Evil

Fo What

by

Jeezy

•

Turn up da Block Vol. 2

100 Shots

by

NLE Choppa

•

100 Shots

Fist City

by

Loretta Lynn

•

All Time Greatest Hits

Ain't No Yhang

by

Gangsta Blac

•

Can It Be

Outside Lambo

by

Peewee Longway

•

BagMen

TOOT TOOT

by

Duke Deuce

•

Duke Nukem

Space Is The Place

by

Sun Ra

•

Space is the Place

Mona Lisa - Interlude

by

Jrdnfr

•

Mona Lisa

You Could

by

Kendrick P.

•

4U

See The Lights - WhereIsDro Remix

by

Prince The Rookie

•

See The Lights (WhereIsDro Remix)

Shoot

by

BlocBoy JB

•

Simi

Cell Ready

by

Juicy J

•

TGOD Mafia: Rude Awakening

Giving Back

by

Yo Gotti

•

CM10: Free Game (Side B)

U Played (feat. Lil Baby)

by

Moneybagg Yo

•

U Played (feat. Lil Baby)

Greasy Pumpkin

by

The Pac-Keys

•

Late Late Party (1965-67)

Too Much of Nothin'

by

Willie Clayton

•

Willie Clayton: The Hi Recordings

You Turn Me On

by

Kenny Doss

•

Movin' On A Feelin'