Events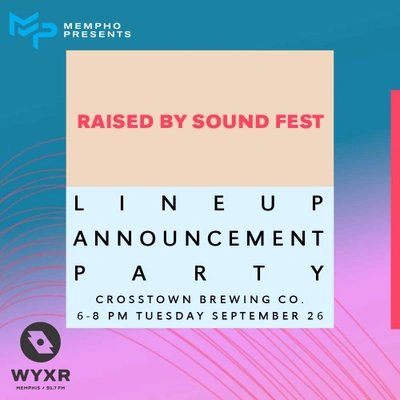 Tuesday, September 19th
•
6-8p
Venue: Crosstown Brewing Company
Join WYXR for a night of music and excitement at the Raised By Sound Fest Lineup Release Party! Be the first to discover the stellar lineup of talented musicians and bands for this year's Raised By Sound Fest. Get ready for an evening of WYXR DJ sets, exclusive announcements, and a celebration of our city's vibrant music scene.
Thursday, October 5th
•
5p
Venue: Crosstown Concourse
WYXR is turning 3! Celebrate all the memories, music, and more on Thursday, October 5, from 5-7 p.m., where we'll be pumping up the tunes and good times right outside our studio in Crosstown Concourse. We want to see you in person and tell you thanks for listening, sharing, and donating to help us grow year after year.
Partner Events
Saturday, May 13th - Saturday, Sept 30th
•
7 p.m.
Venue: MoSH
Laser Live will feature Memphis musicians performing in the MoSH full dome planetarium, accompanied by a full laser light show. This is the first series of its kind, so don't miss your chance to see these great, local artists perform in the most unique music venue in the city.
Schedule
September 30: Tropical Fusion Latin Band
Showtimes
Two 45-minute sets each night (except June 10th)

First set: 7 p.m.

Second set: 8:30 p.m.
Ticket Prices
Adults & Youth: $18

Members: $15
Previous Events
⁠May 13: Hope Clayburn & Soul Scrimmage

June 10: Freeworld (special show times: 4:30 p.m. & 6 p.m.)

August 19: Al Kapone
Sponsored by MoSH, WYXR, Crosstown Brewing Company, and Shell on Wheels